Brightening Trio
Regular price
(Save $45 by bundling) ,
$175.00
$0.00
My three favorite RVL Skincare AM Suncare products are now combined: the Lip Plumper, Brightening Hydrator, and Brightening Defense. Take control of the health of your face, including your lips, neck and chest by integrating this three step routine into your morning regimen so that you are protected and hydrated to start your day.
Best for
Your AM pre-sun routine. Use this trio as your last steps before stepping outside.
Key ingredients
Brightening Defense:
Zinc Oxide 14.5%, mineral sunscreen
Octinoxate 7.5%, chemical sunscreen
Niacinamide, for brightening
Lactic Acid, for brightening
Hyaluronic Acid, for plumping

Lip Plumper: Homosalate 15%, Octinoxate 7.5%, Octisalate 5.0%,
Avobenzone 3.0%, Broad Spectrum SPF 30
Hyaluronic Acid, Ensures optimal hydration
Palmitoyl Tripeptide-38, Supports healthy collagen production
Ceramides, Improves softness and repairs the skin's barrier
Niacinamide, Vitamin B3 derivative that evens skin tone

Brightening Hydrator:
Biomimetric Ceramide Complex, prevents transepidermal water loss
Peptides, supports the skin's matrix,
Hyaluronic Acid, provides deep hydration
Stem Cells, helps skins elasticity Nicinamide, brightens dsicoloration overtime, support collagen growth
Antioxidants, guard against environmental free radical damage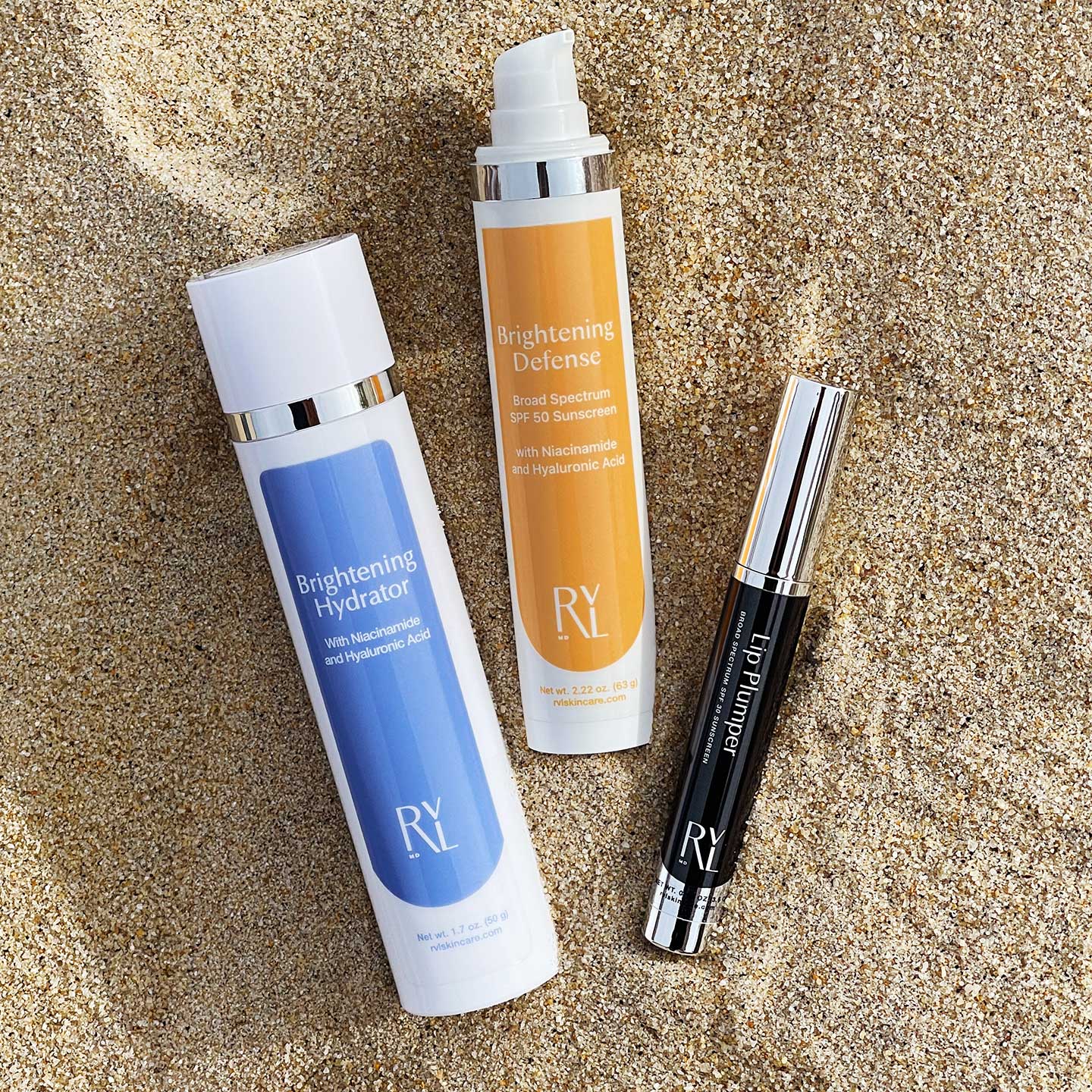 How to use
Use twice a day on clean skin. Can be used across all skin types.
Since discovering RVL Brightening Defense with SPF 50 and Brightening Hydrator it quickly became part of my morning and evening skin care routine. My skin is prone to breakouts and dryness and finding an every day sunscreen and moisturizer can be tricky for me. That's why RVL Skincare has become a game changer for me. The Brightening Defense and Hydrator go on smooth, feel immediately weightless, and I love the brightening effect it has on my skin while also covering me for SPF. The Brightening Defense is absolutely one of my favorite products from the past year and I apply it every morning without fail. I also bought a bottle for my 13 year old daughter and she finished the bottle during sleep away camp, which is kind of amazing!
-Ariel, Mom of Two
looking for more?
Shop Dr. Linkner's favorite brands